Jazz in Europe
Georgia mancio: incandescent is her star
Georgia Mancio, the multi award winning vocalist, producer, educator and lyricist has been captivating us all since releasing her debut album Peaceful Place in 2003. Her stunning recent album 'Quiet is the Star' with Alan Broadbent has reinvigorated the importance of the role of the lyricist, bringing to mind the likes of Ira Gershwin, Joni Mitchell and Dorothy Fields.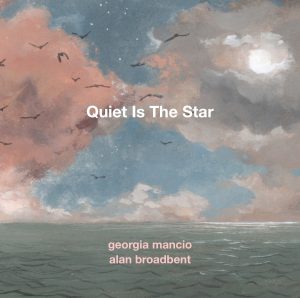 As day turn to night, I watch the sky, I see the clouds go by.
They seem to tell us: we too will pass,
We're only travelling from first to last.
And as they flow, in tomorrow's glow, so quiet is the star
 As I close my eyes, I see the sky, I watch the birds go by.
They seem to tell us: we too can find
Which way to follow, which ties to bind.
And in their flight, in tomorrow's light, so quiet is the star, tonight.
(Quiet is the star, lyrics by Georgia Mancio)
There was much debate when Bob Dylan, as a musician, won the Nobel Prize for literature in 2016 and prior to that, the last musician to win the same prize was Rabindranath Tagore in 1913. The role of the lyricist has been undervalued for quite some time and it was wonderful to catch up with Georgia to explore her relationship with her words and music and put the role of the lyricist firmly on the map.
GM: I totally agree! I hadn't thought of it in terms of how in the Golden age of the Great American songbook that the lyricist was afforded the same reputation, but that's true isn't it? It kind of dwindled. I noticed that when I was looking for song writing competitions, they tended to be very much focused on the composition part and the lyrical side is just not there and actually, not considered as a source.
FR: What drew you to the lyric writing world?
GM: When I think back about what I was good at school, I was pretty good at English and writing. It always was ironic to me that I was of non-British parents and that it was sort of my best subject! It wasn't something I really knew how to pursue. I remember being told that I should go to Oxford to study English and that idea just filled me with terror, but I think maybe that seed was there and much stronger than I've given it credit for. I started writing very organically, just trying to write some lyrics to other people's existing songs and instrumentals without any expectation or thought, just having a go. Then the first collaborative partnership I did was with the great British pianist and writer Tim Lapthorn and most of the lyrics are on an album I released in 2010 called Silhouette. That was a good starting point – a very good starting point – and then it grew from there. I came to writing much later than singing and certainly never thought that this is what I would do because I didn't feel the need to be singing my own words for years and years. But now I realise I would really be lost if I wasn't now singing my own words. With 'Finding Home' that was written about a child refugee that I had met, and it was so personal, things that I felt was so important to me and I wanted to share with other people in a way that made it relatable. It gives you a very different sort of sense of empowerment and connection with music.
Georgia's work with double Grammy award winning pianist, composer and arranger Alan Broadbent has resulted in two albums, Songbook in 2017 and their recent new release Quiet is the Star. A perfectly matched partnership resulting in two albums of beautiful music.
GM: I like working in a partnership for various reasons, but I don't want to be in charge of the whole experience, the musical experience. Maybe I don't actually feel like I have the gifts to do that, but also, I like the exploring, the sharing with somebody else and what they will bring to my work and what I might bring to theirs. And then there's the third entity of what you create together and obviously I think that's so embedded, coming from a jazz tradition where there's no point just practising on your own in a room. It's all about getting out and playing with other people, which is why we struggled this year because we're not able to do that in the same way at all and you know all that chemistry that happens takes on another life because other people give you a sort of extra energy and input.  I think with lyric writing it just feels to me like an extension of writing.
The work with Alan has obviously been the most consistent and the biggest body of work and it just found its own rhythm so quickly and so truly, that neither of us were having to force a change of personality of how we would write. It wasn't like he was expecting me to morph into some other writer, it was just what was coming out naturally. I think that the practise of writing to other people's different diverse collection of instrumentals served me quite well. Really listening to the song and trying to serve that particular song. Obviously, Alan's work is very characterised I think he's got a very strong identity but still within theme. Tune to tune there are big differences that will require a certain type of lyric, or not, and I think you have to be careful not to allow your ego to override that because you are listening to what the source is, if you're writing that way, which we do, and I think that's probably quite common in those songbook eras as well, but then there's always exceptions.
FR: There is obviously something very special between you and Alan. Could you talk us through your working relationship?
GM: I think it's that thing of being on the same wavelength – spiritual he said – it's like a spiritual partnership as in we're on the same wavelength with what we want to get out of a song. There's a really good basis of honesty there, so if something isn't quite right it's easy for one to say to the other, something is missing here. I think it must be a very exposing thing to allow somebody else in, to do that and he's just open and he's able to be honest with me. If there's something he doesn't like and I'm able to just appraise his feedback and I if I can tell he's right and there's a sense that a line or a word could be said in a more elegant fashion or I could dig a little deeper emotionally, then I'll just go with that. There's been times where I'm absolutely sure that what I've written is the thing it needs to be and he will always just relent, so I feel like there's a good give and take, a good balance there. It feels fair, balanced, honest and it feels organic and I think the fact that we've always written in the same way has allowed it to have a lot of continuity and then allowed it to sort of morph and find its own personality point. Naturally you inspire each other.
As well as an incredibly gifted lyricist, Georgia is of course, a stunning vocalist who has managed to stand out in an, at times, overly saturated crowd. This can be especially challenging, as a female vocalist singing material from the Great American Songbook or the Latin Jazz repertoire, respecting and paying homage to legacy while also being unique and forging your own artistry.
GM: I guess you hope that the thread is the way you present the material and that you present each part with authenticity and with your own voice. It's made me, in a way, move away a little bit from that tag of 'I'm a jazz singer' because I suppose that has so much baggage attached. It's the way you approach material rather than the material itself and I feel like if I can bring my own story to it, then it will have integrity.  I find it is also dependent on the taste of the times. I definitely started by singing jazz standards, but I remember that then there was a sort of move away from standards, people writing their own material or just picking more modern repertoire and then ironically when I started moving in that direction there was huge sway back to standards! It also depended on where you were playing. Some venues were so militant about you having to sing standards and often would impose their idea of what you should be singing or there would be that suggestion that you should fit into the programme that best fit that venue or the programme they thought that their audience would most enjoy. Balance is important but to be honest, when I started writing my own lyrics and doing gigs that were purely 100% original material, I did think, is this a huge ask of an audience to come to a concert of music they've never heard before and have to get straight into the stories and listen? But we had such a positive response that it taught me that if you present the work well and you put it in some kind of context – and it's good and holds up – then that's the important thing and I think it's actually really important to respect the artists decision making on their repertoire.
Georgia and I discussed many fascinating areas of her work, too much to put into one article, so we will return with a secondary article soon. But to finish, it is no surprise that Georgia is so highly respected in the Jazz industry and her elegance and integrity is clear and shines through in all of her work. Quiet is the Star is a perfect title for her recent album, which I highly recommend, but there is nothing quiet about the star that is Georgia Mancio.